ABOUT US
Established in 1970, Blessington Street Laundrette has seen many loads of dirty, soiled laundry. Blessington Street Laundrette has a reputation as a caring, professional & quality launderette.
The launderette has 13 employees & is managed by Rita, who has been in the industry for over 18 years. It is owned by Lisa, who has enjoyed the dryclean industry for over 10 years, with the combined experience of Lisa, Rita, & their staff, there is no other laundry in Melbourne that can or will offer you such around the clock service & experience.
---
MESSAGE FROM THE OWNER
Every customer is important to Blessington Street Laundrette.
Our commitment to customers is to provide excellent personal care, friendliness and quality. I am proud to have long term, experienced and dedicated staff to ensure the best possible quality for our customers. Whether it's a crisp, clean shirt or a well pressed trouser, we offer pride and care to make our customers look good and feel their very best.
We ensure that our level of quality is maintained, regardless of how great the volume is at any level of time. To new commercial and residential customers, we hope to satisfy you the same way, that our customers have come to expect from Blessington Street Laundrette coin laundry over the years.
Lisa Kew – Owner of Blessington Street Laundrette
---
MESSAGE FROM THE MANAGER
I've been working at the laundry for almost 20 years. I feel like it's my baby, so I take a lot of pride and joy in the work that I do. When I started at the laundry, I knew nothing about washing, ironing, folding or anything else that comes with dirty laundry.
Today, I am proud when someone comes in with a terrible stain and asks to see Rita to help them out. Of course, I always help out, although owners risk is taken. I take care and 90% of the time, I do well. There's nothing better than a customer saying, "thank you, you have saved my favourite garment". Besides my son, Blessington Street Laundrette is my life, so when I say to you, "I'll do my best", you can be guaranteed that I will take care of your personal posessions
Rita Nachar – Manager of Blessington Street Laundrette.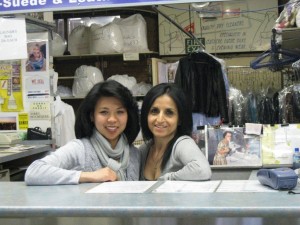 Checking…
Ouch! There was a server error.
Retry »
Sending message…
SEND A MESSAGE OR CALL US NOW ON (03) 9534 2976